Hoiana employees will enjoy quality transport on regular routes from Da Nang, Hoi An and a western route. Residents in the Hoiana Village will have access to a regular shuttle bus from the Village to all parts of the Resort.
Route 01 : Metta coffee - opposite to Danang Eye Hospital, 68 Phan Dang Luu St,.- The administrative center of Ngu Hanh Son district, 486 Le Van Hien St. - Opposite Vu Le restaurant, Hoi An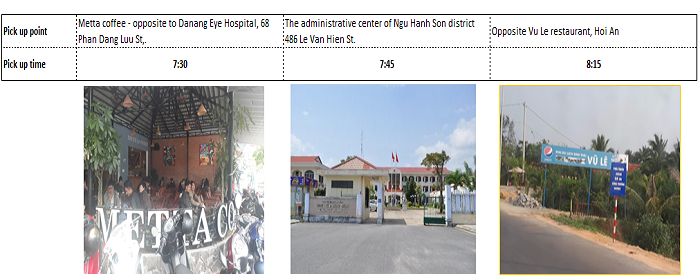 Route 02: Da Nang Golden Bay Hotel - Euro Village, Tran Hung Dao St.

Route 03: 158 Ham Nghi St., FM Zone Style Building - 02 Nguyen Huu Tho, Military C17 Hospital - 33 Xo Viet Nghe Tinh - Dong A University - 402 Le Van Hien - Children Hospital.

Route 04: Vincom Plaza - Ngo Quyen St. - Vinmart, 65-61 Phan Tứ - Blue Spa Massage - Vo Nguyen Giap St (Opposite to Pullman resort) - Intersection of Lac Long Quan - Hai Ba Trung Near An Bang beach (before traffic light)

Route 05 : T-junction of Vo Van Kiet - Nguyen Thien Ke St. - Myjoly Home - Muong Thanh Luxury Apartment - T-Junction of Tra Lo & Truong Sa - T-junction of Vo Nguyen Giap and Lac Long Quan (Thong Nhat T-junction, Dien Duong commune) - Song Do Bridge (before traffic light)